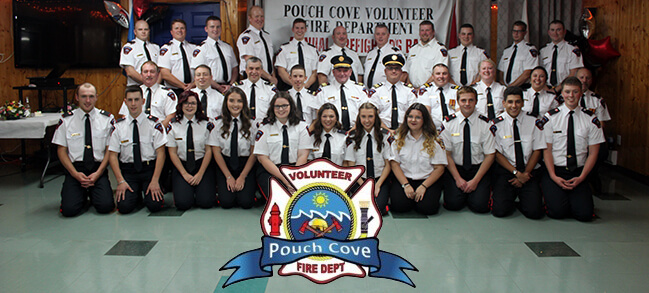 The Pouch Cove Volunteer Fire Department has been providing Fire and Emergency Services, as well as Fire Prevention services to the towns of Pouch Cove and Bauline for 40 years. The department is made up of 40 professionally and highly trained volunteer Fire Fighters, as well as five Junior Fire Fighters.
Our members take part in weekly in-house training as well as training courses that take place around the province from multiple sources on a frequent basis. Members are eligible to receive training to the same level of a professional firefighter in the areas of: Defensive and Offensive Structural Firefighting; Motor Vehicle and Machinery Rescue (including Jaws of Life); Rope (High/Low Angle) Rescue; First Aid; Fire Apparatus Operations; as well as many other disciplines.
The PCVFD is always looking for potential new recruits. If you are interested in applying to volunteer, please contact the Fire Chief at [email protected].
| | |
| --- | --- |
| Position | Name |
| Chief | Derek Sullivan |
| Assistant Chief | Todd LeGrow |
| Captain | Robin Gould |
| Captain | Rodney Ryan |
| Captain/Treasurer | Mike Noseworthy |
| Lieutenant | Kirby Legrow |
| Lieutenant | Patrick Westcott |
| Lieutenant | Cory Wall |
| Firefighter/President | Matthew Legge |
| Firefighter/Secretary | Jennifer Langmead |
| | |
| Fire Fighter | Aaron Shea |
| Fire Fighter | Barry Murray |
| Fire Fighter | Brandon Shea |
| Fire Fighter | Clint Rideout |
| Fire Fighter | Cody Langmead |
| Fire Fighter | Courtney Moores |
| Fire Fighter | Dez St. Croix |
| Fire Fighter | Glenn Sainsbury |
| Fire Fighter | Jared Lewis |
| Fire Fighter | John Pennell |
| Fire Fighter | Juston Furlong |
| Fire Fighter | Josh Meehan |
| Fire Fighter | Keith Owens |
| Fire Fighter | Leslie Sullivan |
| Fire Fighter | Mark Connors |
| Fire Fighter | Matt Garvin |
| Fire Fighter | Melanie Sullivan |
| Fire Fighter | Paul Shea |
| Fire Fighter | Phillip Eveleigh |
| Fire Fighter | Raymond Langmead |
| Fire Fighter | Shawn Wall |
| Fire Fighter | Zach Wall |
| | |
| --- | --- |
| Position | Name |
| Junior Fire Fighter | Allan Ivany |
| Junior Fire Fighter | Brent Moores |
| Junior Fire Fighter | Janelle Evans |
| Junior Fire Fighter | Leah Murray |
| Junior Fire Fighter | Mark Furlong |
| Junior Fire Fighter | Nathan Carroll |
| | |
| Firette – President | Erica Haley |
| Firette – Vice President | Cindy Haley-Owens |
| Firette – Secretary | Darlene Murray |
| Firette – Treasurer | Jan Reid Eveleigh |
| Firette | Josephine Connors |
| Firette | Kim Connors |
| Firette | Pam Shea |
| Firette | Roberta Noseworthy |
| Firette | Mona Jordan |
| Firette | Ashley Legrow |
| Firette | Jennifer Noseworthy |
| Firette | Mary Noseworthy |
| Firette | Cathy Noseworthy |
| Firette | Noelle Tobin |
| Firette | Roslyn Sainsbury |
| Firette | Christina Pickett |
| Firette | Cathy Connolly |